On Saturday October 2, 2021 our Chapter sponsored an educational program to introduce women to flyfishing as a sport and fun family recreational activity. This year's program was held at the Limestone Springs Preserve in Richland, PA. The participants were given instruction and activities in flyfishing gear, equipment, knots and knot tying, entomology, fly tying (to match the insects) and casting. Displays, equipment and handouts were provided by the Chapter and instructors to enhance the presentations.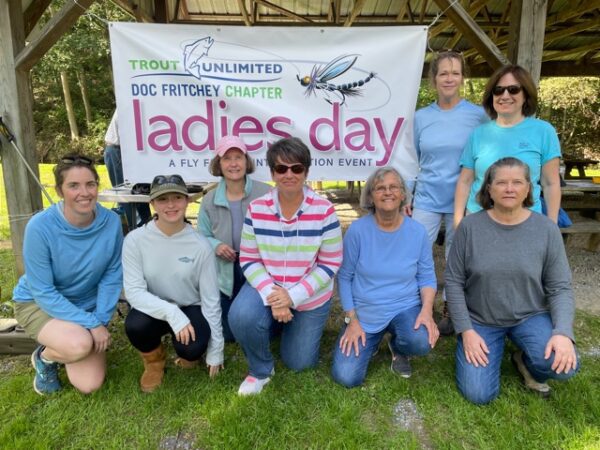 Lead instructors were Jacquie Law, Cyndi Camp, Lynn Langer, Steve Long and Sarah Stark. Assisting as mentors were Bob Pennell, Russ Collins, Khervin Smith, Rich DiStanislao, Chris Liartis, Greg Silva, Gary Copenhaver and Chuck Swanderski.
The morning was dedicated to presentations on the topics listed above. Lunch and snacks were provided by the Chapter. Participants were given the opportunity to chat with the instructors during the break. Participants were then given the opportunity to practice their casting skills in the stream (with a mentor) to experience the thrill of "the take." Hookless flies were used as the Preserve is a "Catch and Keep" facility. No fish were harmed during this session!
After a general wrap up meeting the group was again given the opportunity to further interact with the mentors and fish the stream with actual flies and keep their catch. Initial evaluation by the participants give the program 100% great and let's do it again next year.
A special thanks to our DFTU volunteers and the staff at Limestone Springs for making this event possible. Some great pictures of the event can be viewed in the gallery below, or our Facebook page.