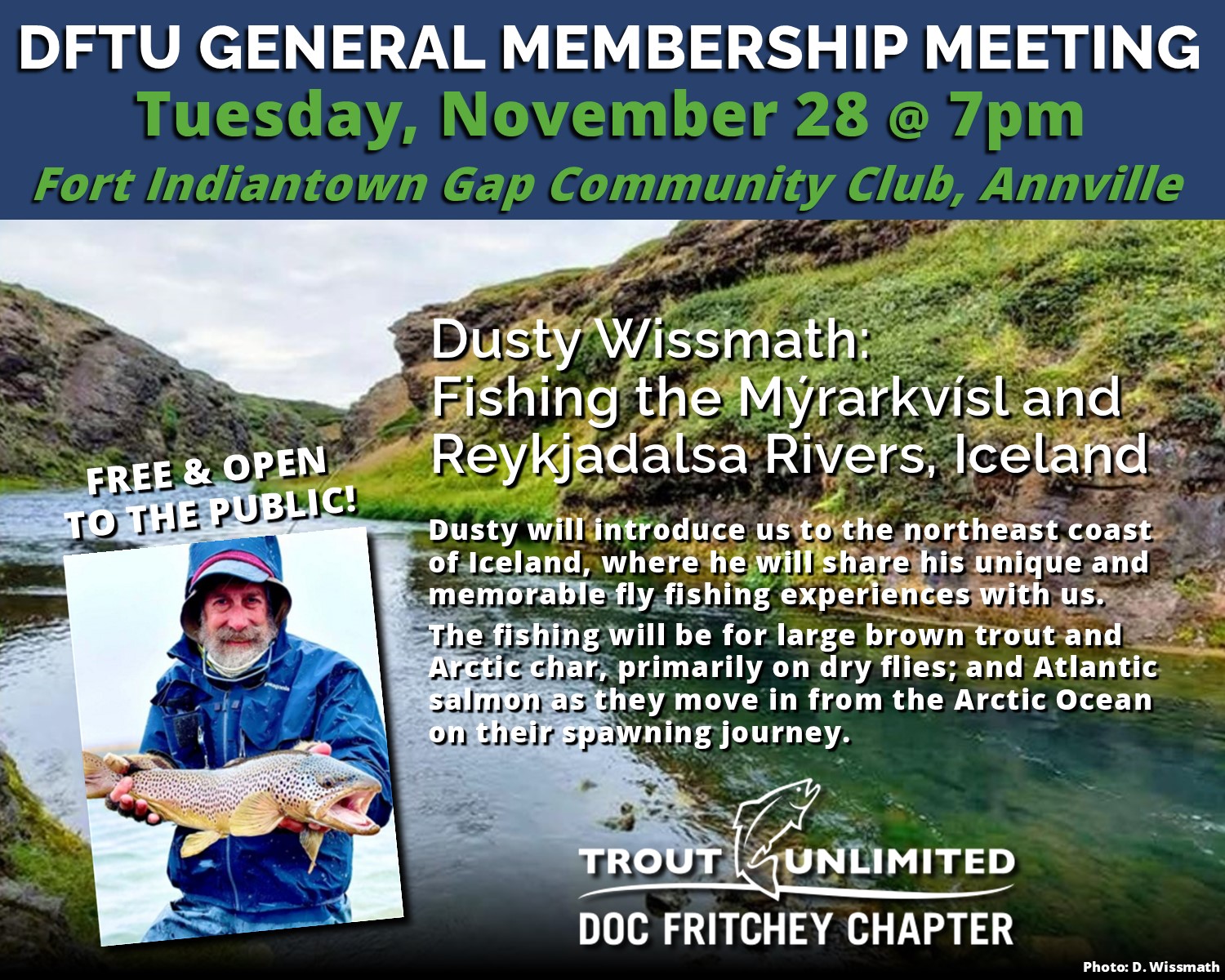 Our next chapter meeting will be held on Tuesday, November 28th at the Community Club at Ft. Indiantown Gap beginning at 7:00 p.m. Because of an unexpected scheduling conflict in May, our November program will once again feature our own Dusty Wissmath, who will present a program on fly fishing in Iceland.
Dusty's presentation will feature the Mýrarkvísl and Reykjadalsa watersheds, which are relatively small rivers that hold large brown trout along with good runs of salmon throughout the summer. These rivers run through flatland plains, making them perfect for dry fly fishing. After that, the rivers run through canyons, which offer the opportunity to sight-fish for trophy fish in the clear pools. Both rivers are tributaries of the Laxa which empty into Lake Vestmannsyatn about 5 km from the ocean. These rivers have an amazing character with such diversity that there is something for every angler, whether fishing the plains with small dry flies and nymphs or swinging flies and sight fishing for salmon in the canyon pools.
As well as directing his own fly fishing school, Dusty Wissmath heads the Orvis Fly Fishing School in Boiling Springs, PA, is an instructor at the Wulff School of Fly Fishing, and served as the lead instructor at L.L. Bean's Fly Fishing School in Virginia. He guides in Pennsylvania, Virginia and Montana and hosts trips to fly-fishing destinations worldwide. Dusty is a Simms and Costa Guide Ambassador and a Pro Staff member of Scott Fly Rods, Hatch Reels, Hyde Drift Boats, ARC Fishing and a royalty tier for Holly Flies. His writing and photography can be found in several fly fishing publications.
For those of you who have not joined us at the Community Club at Ft. Indiantown Gap, please be assured this is an excellent meeting location. We are in a large private room adjacent to the bar and grill, so many of our members arrive early for burgers, beer, and conversation before the program begins at 7 p.m. This year's chapter president, Chuck Swanderski, runs an excellent meeting. Nice and tight and operating on the SOT squared formula – start on time and stop on time.