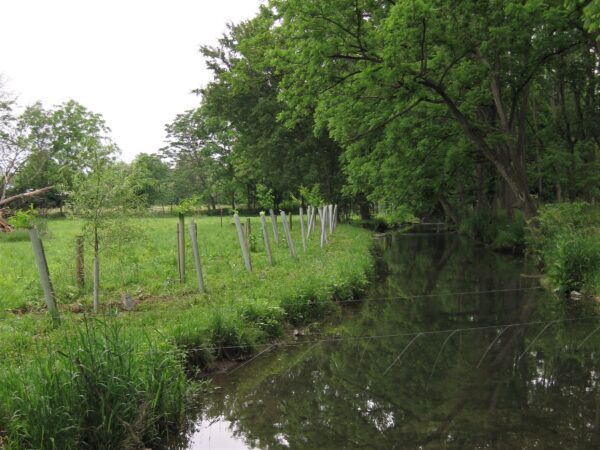 The rain stayed at bay so that fifteen volunteers from the Doc Fritchey Chapter of Trout Unlimited (DFTU) could plant more than thirty tree saplings along the east bank of Snitz Creek in North Cornwall Township, just west of Lebanon, Pennsylvania.
DFTU's Work Day on June 11, 2022, was scheduled so volunteers could replant trees washed away in last September's heavy flooding. Oak and redbud trees were planted, utilizing protective tubes to keep white-tailed deer and other wildlife from nibbling on the tender saplings. Ames True Temper in Cumberland County donated shovels, hammers, and pickaxes for the volunteers to dig through the rocky clay soil. The Donegal Chapter of TU in Lancaster County donated the saplings that will help keep this 1,200-foot-long riparian buffer, started by DFTU and ARRC (Aquatic Resource and Restoration Company) in 2018, in place for the creek to remain a healthy waterway.
The creek's stocked trout could be seen splashing about, feeding on that morning's hatch of mayflies, midges, and caddisflies.
A memorial Willow tree was also planted in memory of Richard "Dick" Puerzer who passed away on November 3, 2021. Dick was a long-time member of DFTU and a mentor for many of their spring fly-tying programs. The newly-planted Willow, and a memorial plaque on a small limestone boulder, will permanently remember Dick's dedication to the Chapter.