Following on the heels of a previous blog post featuring Hammer Creek, our chapter received word from several folks interested in helping with our stream restoration efforts. We received six offers to help with our efforts. One in this group is a high school student planning to seek a degree in Environmental Engineering. Another is a high school teacher looking to engage students in conservation work.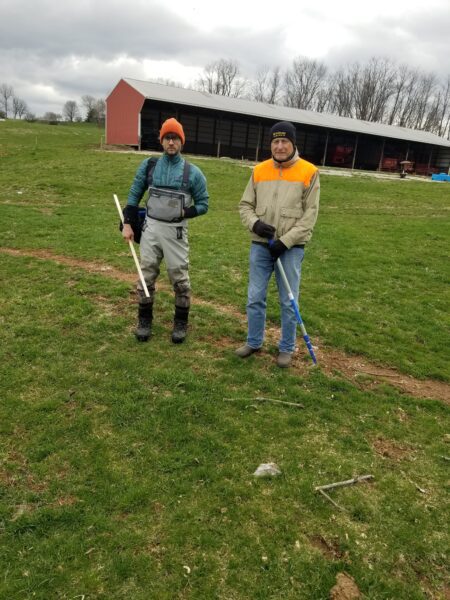 This past weekend, two volunteers — Rob Smith and Walt Hebda — accompanied me to the Hammer to gather pre-construction data. To gather this data, we installed four groundwater wells in some of the marshy areas on the Barry Farm. For this part, we put a thirty-six-inch length of screened PVC into the ground, which allows us to measure the depth of the groundwater.
The depth of the water potentially indicates what water would be available to seep into the streamflow to cool and enhance the flow. We also installed four streamwater temperature loggers called TIDBITS.  These indicate the temperature of the stream, which is vital for any trout population.
We gather the data approximately monthly. After three months, we are still working some kinks out of the process. Learning how to work with the TIDBITS is a work in progress. To capture the temperature data, one crew has to get into the water and lift the device out until there is a bluetooth connection with a phone or tablet with a dedicated application.
We use a very sophisticated process to measure the groundwater depth; we put a yardstick down the well tube. I am currently researching a more scientific method, such as an ultrasound device.
I am proud to say that DFTU is one of the leading chapters in the state working to restore, reconnect and clean up our precious coldwater resources. Please, join us in the effort!
---
If you're interested in learning more about this project, or how you can help volunteer, please contact Jim Suleski by email at jims@dftu.org and Russ Collins by email at russ@dftu.org, or simply fill out the form, below.
Hammer Creek Volunteer Sign-up
Please fill out this short form to send a message to our volunteer coordinators. (Note: fields marked with an asterisk (*) are required.)