Calendar
MEETING SCHEDULE
For 2019, the Doc Fritchey Chapter will hold its general membership (social) meetings on the fourth Tuesday of the months of January, May, July and November. The chapter's business meetings will be conducted on the fourth Tuesday of February, April, June, August and October. The chapter's annual membership meeting will be held on September 24. There will be no meetings in December. Unless otherwise noted, general membership and business meetings will begin at 7:00 PM. All members are welcome to attend the chapter's business meetings.
Guests are always welcome at our chapter meetings!
MONTHLY MEETING LOCATION
Unless otherwise noted, our current location for monthly membership meetings is the Giant Food Community Center, 2300 Linglestown Road (Rt. 39), in Susquehanna Township just north of Harrisburg. This location is 1.7 miles east of Rts. 22/322, on the north side of the road between Crooked Hill Road and Progress Avenue. Our meetings are held in one of the Community Rooms on the second floor, and food service and beverages are available before or after our meetings in the Beer Garden & Eatery on the first floor.
UPCOMING CHAPTER EVENTS
Next Membership Meeting – Tuesday, January 22 at 7cn:00 PM
Our first membership meeting of the new year will feature Dave Rothrock; well-known fly fishing guide, author, fly tyer and casting instructor who will talk about guiding on the streams of central and north central PA. Dave will be offering a full-day guided trip for two on their choice of streams as the Door Prize Raffle prize at our March 23 Annual Fundraising Banquet. Click here to see Dave's bio.
Introductory Fly Tying Course – Thursdays, February 21 through March 28
DFTU will conduct a 6-week evening course on introductory fly tying at the Olewine Nature Center, Wildwood Park in Harrisburg. The class will be held on 6 consecutive Thursday evenings from 6:00 to 8:00 PM, beginning on February 21, 2019. All tools and materials are included in the registration fee of $20.00 per person. Adults and youth 10 years and older are welcome (under 16 must be accompanied by an adult).
Space is limited. Pre-registration is required; call 717-221-0292, or register online at https://dauphincountyparksandrecreation.ticketleap.com/fly-tying-classes/dates/Feb-21-2019_at_0600PM
Contact Rich DiStanislao at 724-664-3122 or rdistani@comcast.net for more information on what the course entails.
Annual Fundraising Banquet – Saturday, March 23 at 5:00 PM
We will be celebrating our 49th. year as a TU chapter at the Holiday Inn of Grantville with a full array of live & silent auctions, various raffles, and will feature John Arway, recently-retired executive director of the PA Fish & Boat Commission, as our special guest speaker. Click here to download a reservation form.
2019 CHAPTER MEETING DATES
January 22 (Social) July 23 (Social)
February 26 (Business) August 27 (Business)
March 23 (Annual Banquet) September 24 (Annual Meeting)
April 23 (Business) October 22 (Business)
May 28 (Social) November 26 (Social)
June 25 (Business)
WORKDAYS
Sundays at 1:00 PM: Weekly Maintenance on Rausch Creek Diversion Wells
All are welcome to meet in the parking lot at the east gate of the Stony Creek trail off Gold Mine Road to assist with weekly maintenance. For more information and directions to the diversion wells, see the Projects/Diversion Well page and/or contact Dennis Coffman at 717-350-8817 or dcstreamwalker@comcast.net. For weekly updates on the diversion well crew's activities, click on the link to the chapter's Facebook page.
OTHER EVENTS
Join
We'd love to have you as a member, whether or not you fish. Healthy streams benefit everyone, not just anglers.


Calendar
Check the Calendar for upcoming chapter meetings and other events.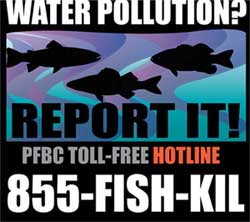 Find us on Facebook!