Calendar
MEETING SCHEDULE
Beginning in 2018 the Doc Fritchey Chapter will hold its general membership (social) meetings on the fourth Tuesday of the months of February, April, June, September and October. The chapter's business meetings will be conducted on the fourth Tuesday of January, March, May, July, September and November. There will be no meetings in December. Unless otherwise noted, general membership and business meetings will begin at 7:00 PM. All members are welcome to attend the chapter's business meetings.
Guests are always welcome at our chapter meetings!
MONTHLY MEETING LOCATION
Unless otherwise noted, our current location for monthly membership meetings is the Giant Food Community Center, 2300 Linglestown Road (Rt. 39), in Susquehanna Township just north of Harrisburg. This location is 1.7 miles east of Rts. 22/322, on the north side of the road between Crooked Hill Road and Progress Avenue. Our meetings are held in one of the Community Rooms on the second floor, and food service and beverages are available before or after our meetings in the Beer Garden & Eatery on the first floor.
UPCOMING CHAPTER EVENTS
Annual Membership Meeting – Tuesday, September 25 at 7:00 PM
Our annual membership meeting is open to all members who are encouraged to come and cast their votes for the officers and directors who will serve the chapter for the next fiscal year which begins on October 1. The nominated slate can be found on the News page, and other nominations will be accepted from the floor. We will also be featuring videos from the 2017 Fly Fishing Film Tour. To view the trailers, see https://flyfilmtour.com/watch-trailers/2017-trailers/
And…back by popular demand is the "Door Fly" drawing that was introduced at our June 26 membership meeting. Simply bring a fly (either one you tied or store-bought) attached to a business-size card with your name and the name of your fly pattern. Deposit your fly in the DFTU-logoed hat, and if your fly is drawn… you get to keep all of the donated flies…and the hat!
Membership Meeting – Tuesday, October 23 at 7:00 PM
Our special guest speaker for the final general membership meeting of 2018 is Josh Miller, a competitive fly fisher who is a member of Fly Fishing Team USA and has worked as an assistant coach and instructor with Team USA Youth. Josh is the eastern region coach for the US Youth Fly Fishing Team. He is also a "Signature Fly Tyer" for Orvis and works at the International Angler fly shop in Pittsburgh. You can learn more about Josh at http://joshpgh.blogspot.com/
We also expect to have Lenka Platt from Halifax and Leo Posavec from Harrisburg, the two teens our chapter sponsored this year, in attendance to tell us about their experiences at the 2018 TU Rivers Conservation & Fly Fishing Youth Camp.
2018 CHAPTER MEETING DATES
January 23 (Business)) June 26 (Social)
February 27 (Social) July 24 (Business)
March 24 (Annual Banquet) August 28 (Social)
March 27 (Business) September 25 (Annual Meeting)
April 24 (Social) October 23 (Social)
May 22 (Business) November (Business)
WORKDAYS
Mondays at 6:00 PM: Weekly Maintenance on Rausch Creek Diversion Wells
All are welcome to meet in the parking lot at the north gate of the Stony Creek trail off Gold Mine Road to assist with weekly maintenance. For more information and directions to the diversion wells, see the Projects/Diversion Well page and/or contact Dennis Coffman at 717-350-8817 or dcstreamwalker@comcast.net.
Saturday, September 22: Repair Work on Diversion Wells
Volunteers are needed to perform various repairs to the infrastructure caused by the incredible amount of rain and flooding at the diversion wells this summer. We will meet in the parking lot at the north gate of the Stony Creek trail at 9:00 AM. Volunteers should bring work gloves and hip boots. All other tools will be provided. For additional information and to sign up, please contact Trip McGarvey at trip1950@comcast.net or 860-367-1516.
To view the videos taken at the wells during our chapter meeting on August 28, please go to our Facebook page at https://www.facebook.com/groups/261267476474
OTHER EVENTS
Float Stockings – Thursday, October 11
The last stocking of Keystone Select Trout, aka big trout, on the Quittapahilla Creek in Quittie Creek Nature Park in Annville is scheduled for Thursday, October 11th.
The stocking truck with Quittie Creek fish will start its day at the Fly Fishing Only section on Clarks Creek at 11:00 AM so if you are in northern Dauphin County and want to help float stock Clarks Creek, the stocking team from Dauphin County Anglers and Conservation is always happy to help DFTU volunteers get wet. (With the excessive summer rain affecting all central PA trout streams in numerous and different ways, it will be interesting to see what the Fly Fishing Only section of Clarks Creek looks like.)
For the Quittie stocking, our DFTU volunteers typically start to wait in the main parking lot at about 12:30. The truck usually arrives after 1:00 PM. Bring your waders if you want to help float stock. Assuming water levels are OK, we'll float stock from the Spruce Street bridge downstream to the Walking Bridge at the parking, and from the first parking lot downstream toward Route 934.
Depending on the amount of interest from those that show up to help with this float stocking, we may also do a quick litter cleanup on the Quittie. After this year's excessive rainfall, we are sure to find plenty of litter that flowed in from upstream.
As always, please let me know if you can help.
Steve Vegoe stephan.vegoe@verizon.net or 717-269-8420
Join
We'd love to have you as a member, whether or not you fish. Healthy streams benefit everyone, not just anglers.


Calendar
Check the Calendar for upcoming chapter meetings and other events.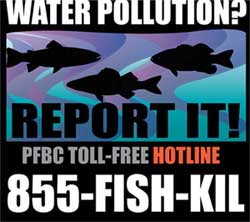 Find us on Facebook!